10 tips for choosing a profitable product or service to sell: your ultimate guide to success
Starting a business can be tough. There are lots of other businesses out there competing for customers, and customers expect a lot from the businesses they choose to buy from.
One of the biggest challenges for a new business owner is finding a product or service to sell. Without the right thing to sell, it's hard to get customers and make money.
That's why we've created this guide to help you choose a great product or service to sell. We'll take you through everything you need to know to make your business a success.
How to Sell a Product: A Beginner's Guide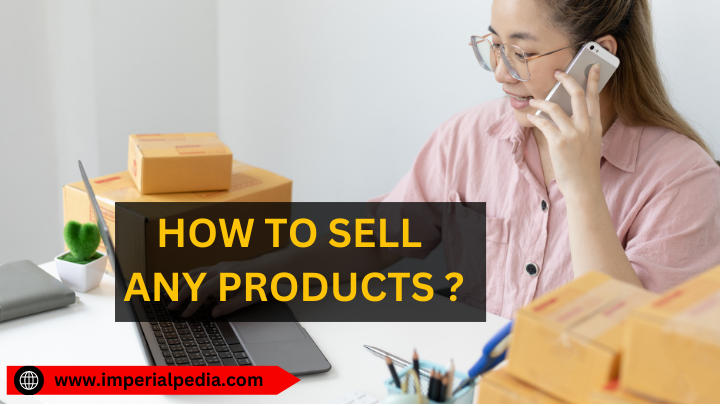 Selling is when you give someone a product or service in exchange for money. To sell something, you might need to talk to the buyer and explain why they should buy it.
This is called Small businesses marketing Or Startup Business Ideas. If you have a big business that lots of people already know about, selling is easier because people already trust your brand. But if you're just starting out, you'll need to work harder to convince people to buy from you.
If you need help promoting your business, check out our guides to search engine marketing and advertising.
Top Types of Products to Sell: A Comprehensive Guide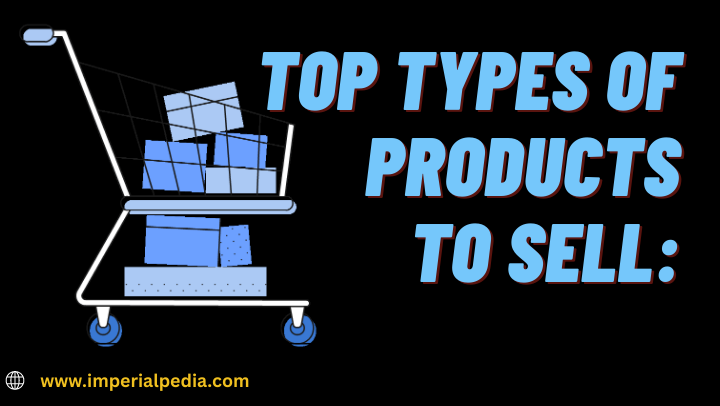 If you want to sell something, you can choose between two categories: physical products or services.
Here are the different types of products you can sell:
Commoditized products
Commoditized products are things that people need and buy a lot, like food, clothes, and toys. They can also be services like insurance. These products make up a big part of all sales because everyone needs them.
Niche products
Niche products, on the other hand, are for a specific group of people and not everyone wants or needs them. They can be handmade or unique, like custom jewelry or personalized phone cases. Niche products are usually made in small amounts, unlike commoditized
products which are mass-produced. Because there are fewer niche products available, their value can be higher than commoditized products.
Product Selection Made Easy: A Step-by-Step Guide to Choosing What to Sell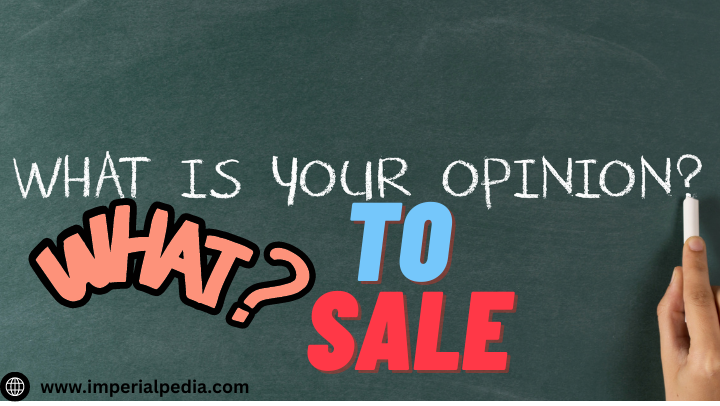 Choosing what to sell can be hard if you don't have an idea yet. It's tough to pick something that's not already popular or being sold by many competitors. Here are some easy steps you can follow to find that perfect product with great potential
Step 1: Finding a Product that Solves a Problem - A Simple Guide
If you want to succeed in business, it's important to offer a product that solves a problem for your customers. This way, people will want what you're selling.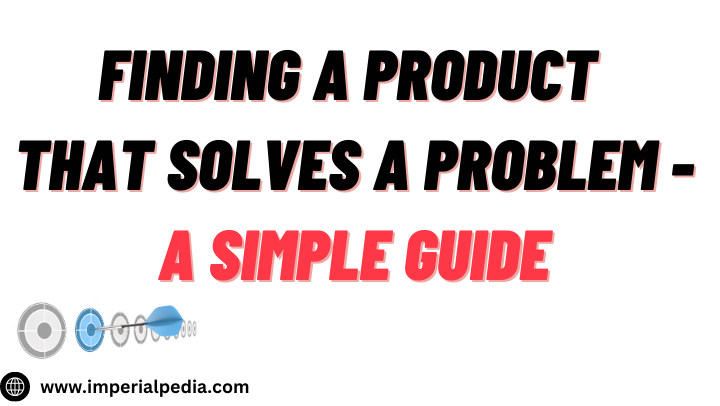 To find a problem that you can solve, research the issues that a particular group of people are facing. Once you understand their needs, you can develop a product that addresses their problem and market it to them.
One way to identify these problems is to look at what issues customers are having with existing products. For instance, if people can't find a vegan alternative to a certain type of food or a lip product that complements certain skin tones, you can create a product that meets those needs and fills the gap in the market.
By doing this, you can gain a competitive advantage and meet the needs of your customers with a unique product.
Step 2: Choosing a Product You're Passionate About - A Simple Guide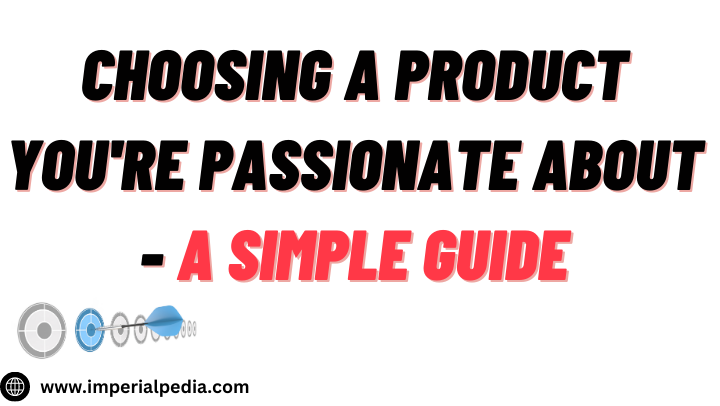 Selling a product that you're passionate about can be a great motivator when starting a business. It can also help build a strong brand identity that resonates with customers. Your enthusiasm for the product can shine through in your interactions with customers, making them believe that you genuinely care about helping them. This can also help you stay committed to your business during tough times.
Discover a Good product with strong branding potential: A Guide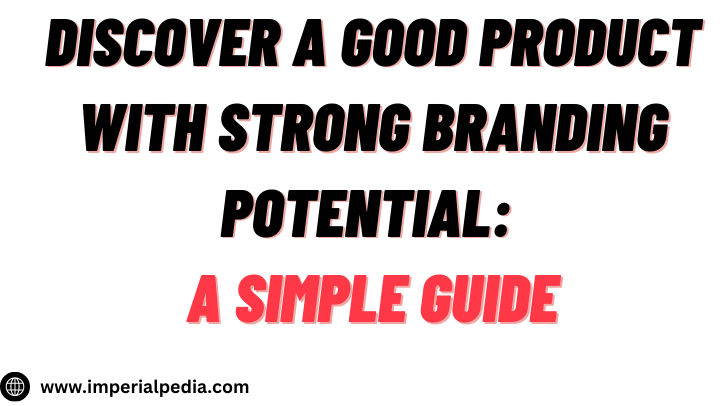 A good product not only satisfies customer needs but also has branding potential. Your product should connect with customers on a personal level and make them feel included.
To create a memorable and unique brand message, consider how you can align it with your product. This will help you differentiate your business from your competitors and encourage repeat customers.
Think About:
When it comes to marketing your product, there are several things to keep in mind to make sure you're effectively reaching your target audience. Here are some key considerations:
Positioning: Your product should feel accessible and relevant to your target audience.
Audience engagement: You should communicate with your audience in a friendly, approachable way, using channels and platforms they are likely to use.
User experience: Think about the design and branding of your website and social media channels, and make sure they are user-friendly, with appealing colors, images, and fonts.
How to take advantage of trends at an early stage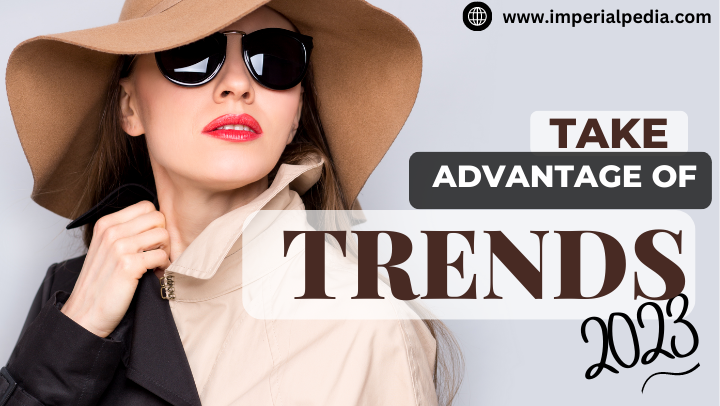 Jumping on a new trend can be a great way to start a successful business, but it can also be risky. To do this successfully, you must keep yourself fully informed about the market and new launches. You need to be quick in launching your business before others do so.
However, capitalizing on trends requires a lot of industry knowledge and keeping up with the latest developments. Keep in mind that businesses based on trends may not last long since trends can quickly lose their popularity. So, be careful and make sure you fully consider your choices before committing.
What does product opportunity Gap mean?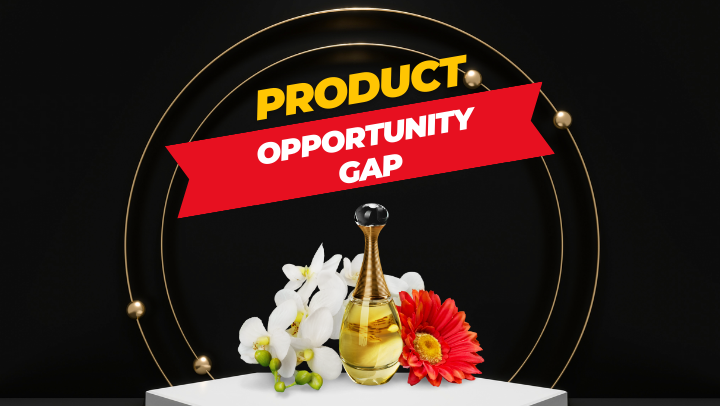 A product opportunity gap refers to a situation where there is a need in the market for a product that doesn't exist yet or isn't widely available. Your business can take advantage of this gap by offering a solution to the problem.
For example, Dollar Shave Club identified a gap in the market for affordable and accessible men's grooming products. They solved the problem by creating a subscription-based model that delivered new razors straight to customers' doors. This innovative approach helped Dollar Shave Club become a billion-dollar brand. Identifying product opportunity gaps can be a great way for businesses to stand out and succeed.
How to Determine a Product's Market Potential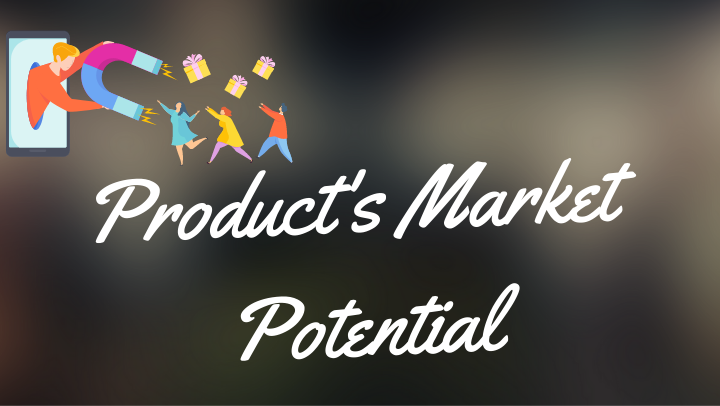 If you're planning to sell a product, it's important to determine its market potential. This means estimating the total demand for the product in a specific market at a specific time. The market potential is typically measured by sales volume or value, and represents the total amount of interest there could be for a product.
For example, a new pet toy could have a market potential of £500,000 in sales annually or 50,000 units sold each year.
Several Factors Affect Market Potential Such As :
Market Size
Growth
Competition
Profitability
These factors can change frequently, which means that the market potential of your product may also change over time.
Beginner's Guide: How to Sell Online?
Selling a new product online may seem intimidating, but you can make the process smooth and successful by following these tips:
STEP 1 : Make Time For Market Research
Market research can help you in three ways:
Understand your target audience better: Knowing who you're selling to is crucial for developing a marketing strategy and messaging.
Learn about their behaviors: Understanding how customers interact with brands and using this data to improve your customer journey can increase conversions.
Identify new business opportunities: Your market research may reveal opportunities to increase sales, such as introducing new products or implementing subscription models.
STEP 2 : How to Identify Your Customer Base Easily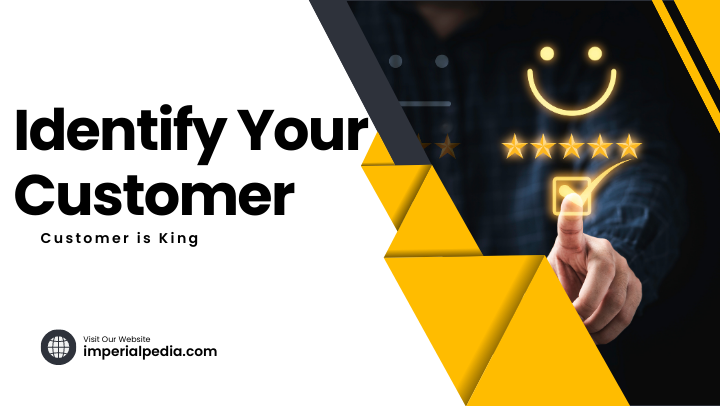 If you want to sell your product, it's important to know who your potential customers are. This is called your target market or customer base.
When you identify your target market, you can determine their characteristics and use this information to your advantage. For example, if you know that most of your customers are young women living in Europe, you can tailor your marketing efforts to appeal to that specific group, which can lead to more sales.
STEP 3 : How to Finalize a Product for Sale Online?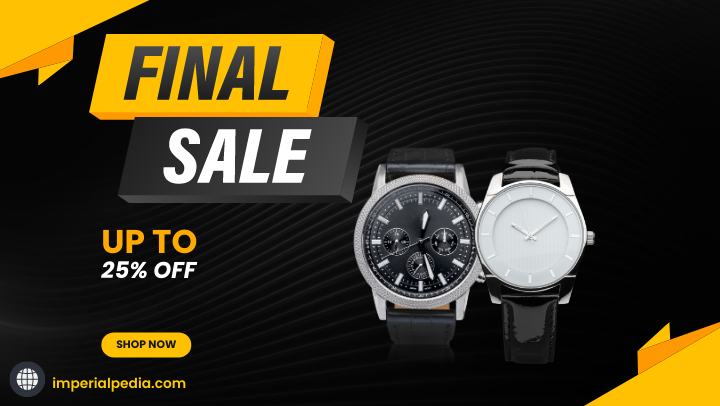 To start a successful business, it's important to have a great product or service to sell. This process is called product development, and it involves several steps:
Brainstorming ideas for your product.
Researching to make sure there is a demand for your product.
Sketching out what your product will look like.
Creating a prototype of your product.
Finding the right materials and manufacturers to mass-produce your product.
Calculating the total cost of manufacturing your product to determine the right price to sell it at.
Choosing the best eCommerce platform to sell your product.
By following these steps, you'll have a product that's ready to be sold online and bring in customers.
If you're running a business, setting up an online store in today's economy. By using an eCommerce platform You Can
Manage Your Website
Sell Products Online
Track Sales
And Optimize Your Marketing Strategy
There are many eCommerce platforms available to choose from, and each has its own unique benefits and limitations. So, it's essential to research each platform to find out which features will work best for your business.
To get started with finding the right eCommerce platform for your business, check out our helpful guide.
STEP 4 : How to Create Great Productivity Content for Your Online Store to attract Audience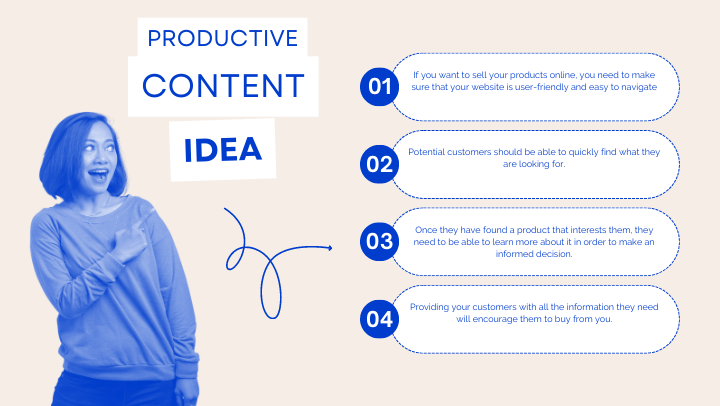 If you want to sell your products online, you need to make sure that your website is user-friendly and easy to navigate. Potential customers should be able to quickly find what they are looking for.
Once they have found a product that interests them, they need to be able to learn more about it in order to make an informed decision.
This means that your website should have high-quality images that show your product accurately, as well as detailed product descriptions that answer any questions they might have. Providing your customers with all the information they need will encourage them to buy from you.
Developing a Effective targeted marketing strategy for Your Online Store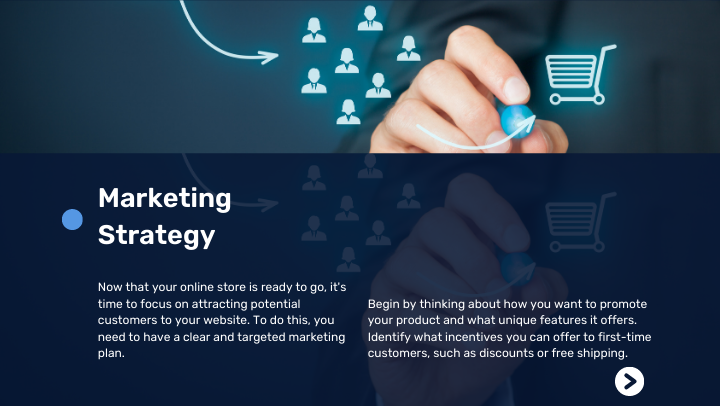 Now that your online store is ready to go, it's time to focus on attracting potential customers to your website. To do this, you need to have a clear and targeted marketing plan.
Begin by thinking about how you want to promote your product and what unique features it offers. Identify what incentives you can offer to first-time customers, such as discounts or free shipping.
It's also important to think about how you can make your brand stand out from competitors. For instance, you could focus on your brand's unique selling points, your commitment to quality, or your excellent customer service.
Overall, creating a targeted marketing strategy can help you to attract customers to your website and build brand awareness. So take some time to develop a plan that will work for your business and budget.
What is Competitor Analysis and Why is it Important for Your Business?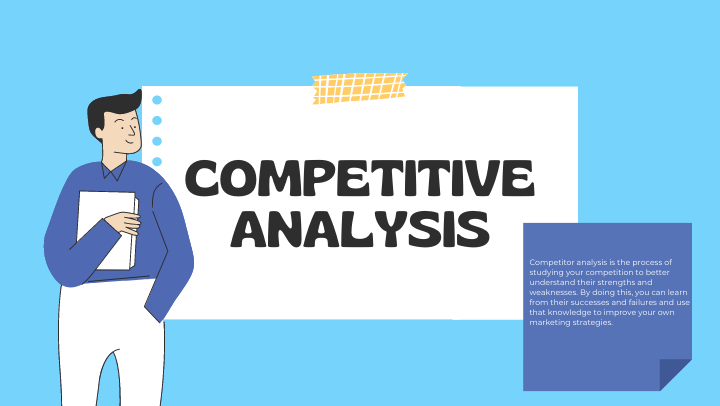 If you're selling a product, you're likely to have competition.
Competitor analysis is the process of studying your competition to better understand their strengths and weaknesses. By doing this, you can learn from their successes and failures and use that knowledge to improve your own marketing strategies.
This can save you time and money by avoiding mistakes that your competitors may have made. Competitor analysis is a valuable tool for any business looking to gain an edge in a crowded market or rat race market.
What are the tools That Can Identify competitor data?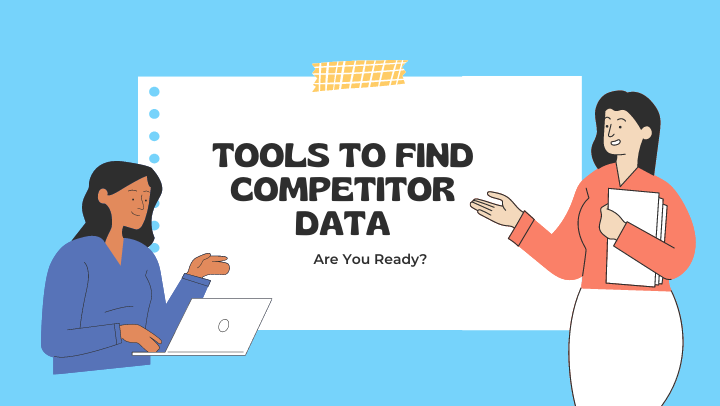 If you want to analyze your competitors and gather data to inform your business strategy, there are several tools that can help you. Here are some of them:
AdPlexity - A research tool that tracks profitable campaigns and sources of traffic for eCommerce websites.
AmazeOwl - A product research tool designed to identify promising potential products on Amazon by searching through millions of items.
Sprout Social - a social media management tool that allows you to analyze your competitors' social media accounts, including their content, engagement, and audience.
Phlanx - an Instagram analytics tool that allows you to track your competitors' engagement rates, follower growth, and more.
Social Blade - a social media analytics platform that provides insights on YouTube, Twitch, and Instagram channels, including follower growth and content performance.
Semrush - a comprehensive SEO tool that provides insights on your competitors' search rankings, traffic, and backlinks.
Ahrefs - a powerful SEO tool that allows you to analyze your competitors' backlinks, organic search traffic, and top-performing content.
MozBar - a browser extension that provides SEO insights on any website, including your competitors'.
Buzzsumo - a content research tool that allows you to analyze your competitors' content performance on social media and other channels.
Similarweb - a website analytics tool that provides insights on your competitors' traffic sources, audience demographics, and more.
Using these tools can help you gain insights into your competitors' strengths and weaknesses, as well as inform your own product development and marketing strategies.
What are the popular products in demand?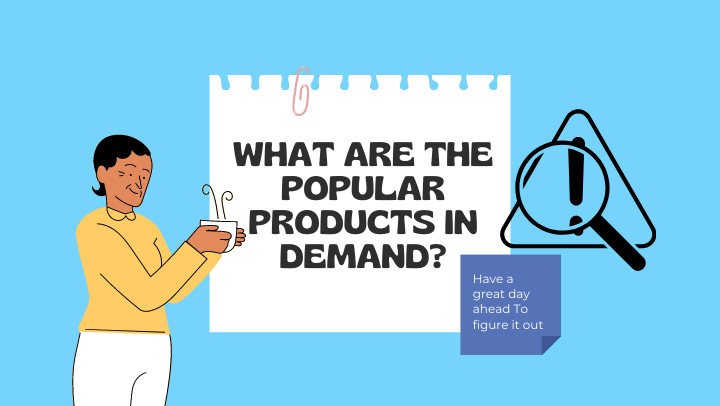 If you want to start a business and need ideas on what products to sell, it's a good idea to focus on products that are always in demand. While trends come and go, there are some products that people consistently need and want.
The Evergreen Products: A Look at the Top Consistently Popular and Always in Demand Items in the Market
Personal Protective Equipment (PPE) and sanitization products
Electronics and gadgets, including smartphones, laptops, and gaming consoles
Fitness and wellness products, such as home gym equipment and supplements
Beauty and skincare products
Home office and organizational products, including desk chairs and storage solutions
Home improvement products, such as tools, paint, and hardware
Pet products, including food, toys, and accessories
Sustainable and eco-friendly products, including reusable bags and containers, and green cleaning products.
Tips To Successfully Selecting a Profitable Product to Sell Online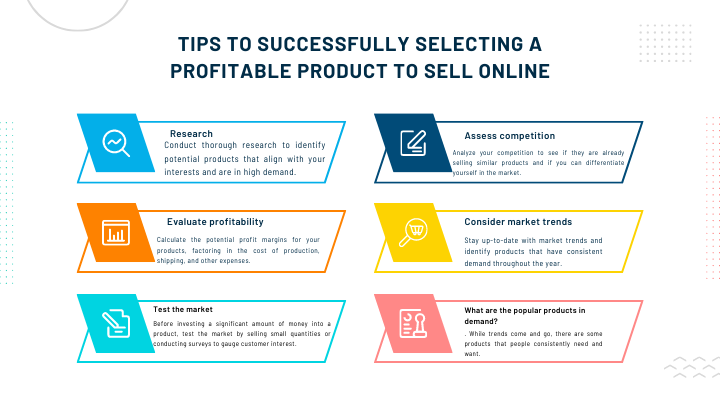 To be successful in the online marketplace, it's important to find the right product that fits your brand and fills a gap in the market. This decision will shape your marketing strategies and target audience.
Therefore, having a well-planned approach to identify this opportunity can give you the best chance for a successful launch
Here are some tips to successfully choose a product to sell online:
Research: Conduct thorough research to identify potential products that align with your interests and are in high demand.
Assess competition: Analyze your competition to see if they are already selling similar products and if you can differentiate yourself in the market.
Evaluate profitability: Calculate the potential profit margins for your products, factoring in the cost of production, shipping, and other expenses.
Consider market trends: Stay up-to-date with market trends and identify products that have consistent demand throughout the year.
Test the market: Before investing a significant amount of money into a product, test the market by selling small quantities or conducting surveys to gauge customer interest.
By following these tips, you can increase your chances of selecting a profitable product to sell online.
Related Content:
If you're looking to learn more about making money online with resources such as "How to make $100 per hour" and "How to make $2400 per day in 24 hours", or if you're interested in choosing a profitable product or service to sell or even if you're thinking about building your own online store Make Sure you need to check it out for the best Knowledge